BELGIUM:  BRUGGE  We traveled to Belgium from Paris.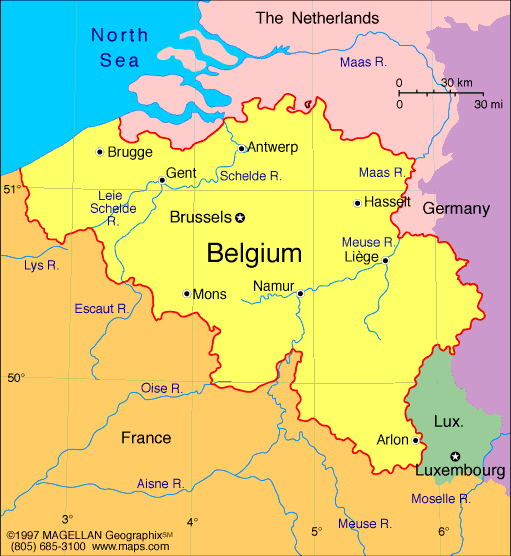 Belgium is a very small country in between France and Holland, it borders Germany and Luxembourg.  The people in Belgium know a lot of languages.  It is amazing. If you live in South part you know French and Flemmish (the Belgium language 0f 55% of the population). In the North part you know Dutch/German and Flemish.  And everyone also knows English. They are the best English speakers in all of Europe, perfect dialect and all.  They must have to process a lot of languages through their head.  We visited a Mid – Evil city named Brugge.  It was INCREDIBLE.
 FUN FACT:   BRUGGE: Bruges, the capital of West Flanders in northwest Belgium, is distinguished by its canals, cobbled streets and medieval buildings
These are our first sights while walking to our hotel.
We walked from the train station to our hotel with our wheelie suitcases and all. 15 minute walk and every sight was cool on the way.  Instantly we could see this city is very old and different.  Nothing has changed and it is World Heritage site so they are not allowed to change things. Even in the MacDonalds it was in an old building with no "M" on it.  The buildings cant change but the stores (what they sell) have obviously changed with the times . Every street looked very similar to this. It was easy to get lost but just as easy to find our way back. We just looked up at the big tower and headed that way.
So many canals and bridges and cobbled streets.  We rented bikes for 2 days. The city is small and everything is in biking and walking distance.  We even went out to a small town called "Damme' that was 6KM away by  bike. We passed windmills, canals, horses, fields and very old houses. (This is mom's favorite picture of us) Just after this, i
t started to rain so we went into the first restaurant we saw and had our first "BELGIUM WAFFLE"  Yum. They put whipped cream, fruit and chocolate on it . No maple syrup (that is a US and Canadian thing). 
Belgium is known for its Chocolate and Waffles. We saw so many chocolate shops and I even went to a "Chocolate Story Museum."  I learned how chocolate is grown from a pod and made.
Basically The Cocoa Pods grow in Central America, they grow on low hanging trees,  they pick the Cocoa pod, get the beans out (about 30-40 per pod), dry them, ship them over to factories in Europe where they crush, and mix them with spices and sugars to make chocolate drops that are packaged and shipped all over the world. Then the factories that receive the chocolate drops melt it and form it into whatever they want.  For example, Hershey's may melt them into chocolate bars or Hershey kisses.   I learned a lot about Chocolate and it was interesting. In ancient times they grinded the cocoa beans by hand.
Fun Fact:  Cocoa was once considered a drink for the "rich" only. In Europe they had Cocoa establishments (like bars) and people went to get a cup of chocolate water or milk. Cocoa beans were used as currency in South America by the Aztec's .  For Example: One cocoa bean was traded for one egg. 13 cocoa beans were traded for a squirrel.  Even for clothes.
We got to see how the Belgium chocolate molds are used and we sampled a lot of chocolate. So much that I couldn't eat anymore of it (So we took it with us).
Riding in the city was cool. They had bell towers, great streets of cobblestone and not many cars at all, and they all looked after the bikers. The canals had swans in them. A lot of swans. A chocolate or candy shop on every corner giving free samples.  I tried all of them. Sawyer too. He was in heaven. We purchased some too.  Check out the old buildings in BRUGGE. 
There were not many tourists at all during the time we were here (off season) so we had the main square practically to ourselves.  Something that would never happen in summer. We rode around and around.
I liked Brugge a lot and glad we chose this city to visit instead of the Capitol , Brussles. We went here on advise from someone we met in Paris who told us about Brugge.  So glad my parents took his advise.
If you have any questions I can be reached at rileymeckley@yahoo.com