We flew from Barcelona, Spain to Venice, Italy. Actually we stayed one night in a small guest house right by the airport because we arrived late.  It was dark out but Dad, Sawyer and I went for  a walk to the local pizza place, when we returned the manager must have locked the front gate. We were stranded. Mom was in the room. We couldn't get in for an hour. We yelled and walked all around the property to find another entrance.  We had to squeeze through the small opening in the fence and Dad had to throw the jackets and bag over the top.  Sawyer and I had to hold the gate open so Dad could squeeze through.  Mom was worried about us. It was so dark and there were no lights. Anyway, this is how I entered the country of Italy.  
The next day, totally different.  Unbelievable! Awesome!  


Venice, Italy. It almost looks like a story book.  Venice is a city built on water. BUT, I did some research and watched a documentary on "how Venice was built in 400AD."  Under the concrete and stone is literally a forest of trees/logs built into the mud under the water.  You may wonder why the logs haven't rotted away after 2000 years, but the logs are not exposed to oxygen so they don't rot.
FUN FACT: Venice, Italy, is known by several names, one of which is the 'Floating City'. This is due to the fact that the city of Venice consists of 118 small islands connected by numerous canals and bridges. Yet, the buildings in Venice were not built directly on the islands. Instead, they were built upon wooden platforms that were supported by wooden stakes driven into the ground. –
I really liked Venice, We stayed for 3 nights. Most people come for a day and just walk along the main street by the Grand Canal and say they "saw Venice," but really there is so much more to these amazing islands. The best way is to stay a few days and just explore on foot or by local boats (like busses on the water).
 This is the "grand canal" the widest of them all. There are 417 Bridges in Venice.  72 of them are privately owned, meaning they lead up to someone's house.  Most are just small stone bridges that connect different parts of islands together. Over the 3 nights we spent here I think I hit most of the bridges. We walked a lot.   
 Taking a "gondola" is very expensive. 80 Euro's for 30 minutes.  For the Americans reading this that is $87.  We did not do this, instead we took the public water bus when we wanted to visit a farther island or just for a night time ride to see the city lit up.
These areas are residential areas where apartments are. Notice the stone Water urn in the center of these pictures.  Back in the day they provided clean filtered water to the local residents.  There are still some working and we saw people filling their water bottles .  Free Water. There is never "new" houses/apartments built in Venice.  It is very hard to find one "for sale" in Venice, most people move out because of the expense of living here or they get sick of the flooding (more on that later).  Fifty years ago there were 120,000 residents and today there are 60,000.  Population is declining so much that if it weren't for the "tourists" no one would stay. Nothing at all is manufactured on the main islands.  Only some of the outer islands still manufacture glass (very famous) or lace.
The Rialto bridge is one of the famous bridges that crosses over the Grand Canal. It is made of stone and very old.  We had to carry our suitcases over the Rialto bridge.  OH, everyone staying here MUST carry their luggage over the stone and cobblestone streets and bridges to get to their hotels. There is no cars or taxi's.
This is us.  We saw people with suitcases as big as me (they obviously don't know how to pack) and having trouble going up and down the bridges.  Chumps! Now the Rialto bridge has construction work going on.
DOGES PALACE:
FUN FACT: A "doge" was the senior most elected official in Venice, Italy.  He held the highest office (kind of like the President, or Prime Minister for the Europeans reading this).
Located in St. Marks Square  ( a huge area with a lot of locals and tourists and pigeons) The Doges Palace was very impressive.  The Palace is huge! It was used for many purposes over the years.  GOvernment buildings where meetings were held, living quarters for Doge's and also a prison.
Fun Fact:  If you imagine landing in Venice from the sea, as did those who came inland by ship, the first thing you see rising out of the water is the unmistakable shape of the Doge's Palace – the city's most famous building.
This is one room in the Palace, it was the biggest room in all of Europe (for a long time) that was built without COLUMNS in the middle. It has ceiling paintings and walls, it reminds me of the Louve (it was definitely Louve worthy).  There were a lot of important government people whose pictures are on the walls too. There is one picture that has a black curtain over it that reads (in Latin) "Here lies Marin Falier, who was beheaded on April 18, 1355."  The Prison was the most interesting part of the palace. It was not like the Prison's of today. We had to first cross over the famous "Bridge of Sighs."  Many people don't know that if you were crossing over the Bridge of Sighs that means you were being taken to PRISON.  Funny how magazines and tourists take photos of such a lovely looking bridge not knowing the true history of it. See the photo of Sawyer and I by the bridge…  On the left is Doge's Palace and on the right is the Prison, the Bridge of Sighs connects them.  AHHHHHHHHH!!! Most didn't make it out alive. Most died because of coldness and flooding in the dungeons and crowded conditions. "
"Oh NO, I'm trapped!"
the weapons room. And the Knights armor in all different sizes were on display, even kids sizes. And there long spears or javelins that they used. It must have been hard to battle in those heavy suits of armor.
Flooding: Often the tide gets so high that the streets in Venice flood, about a foot of water or more covers everything!  That's why all the streets have these tables for people to walk on when it floods.
 This street had the tables set up in case of a flood. It's like a portable boardwalk.  It didn't flood while we were here though, but when it does people are prepared. Most businesses, restaurants, hotels, and houses have  a steep first step to get in, to prevent the floodwaters from reaching. Here is picture from the interned of Venice when it floods.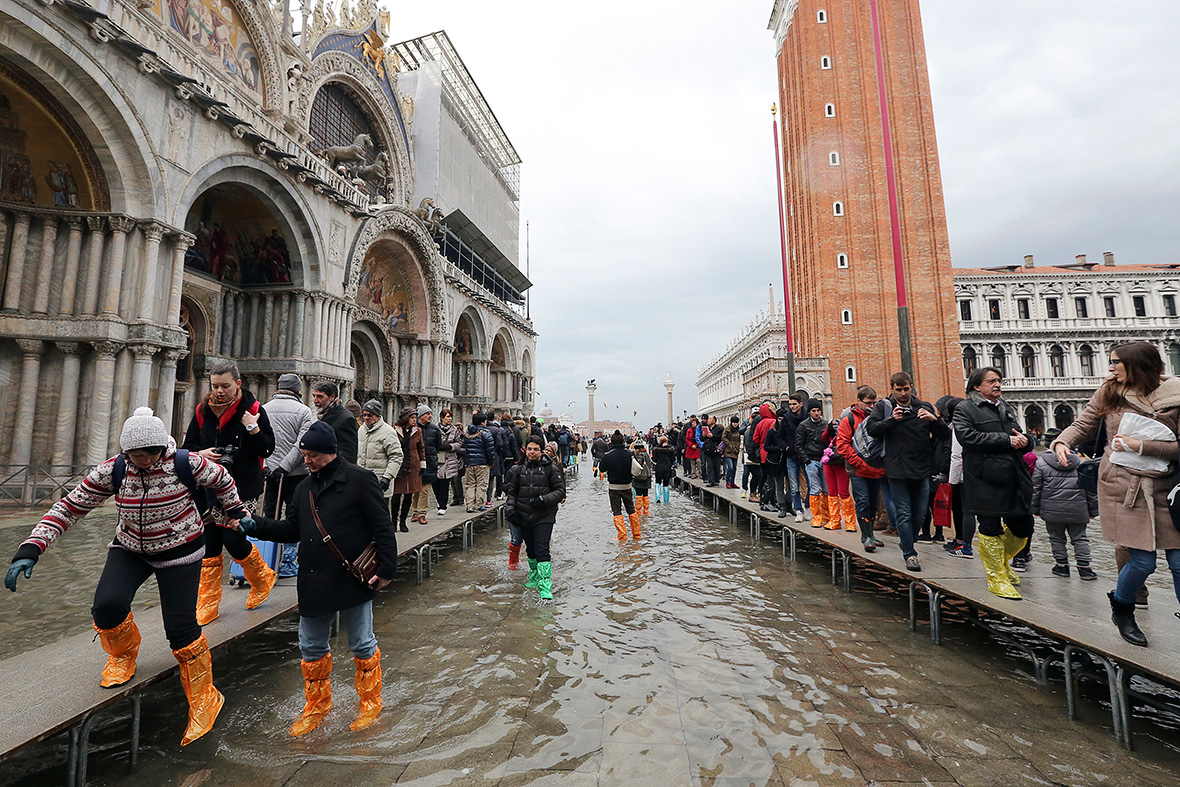 Venetian Glass
The Venetian Glass is made in Murano (an island about 15 minutes away by boat). We watched a demonstration on how the glass is made, heated and shaped into a figure.  It was very cool. I saw a horse being made and a vase.  glass is melted in the fire turning to a form you can shape with certain tools.  Since we were the only ones there we got to try it. I am blowing a glass bowl .  It was so cool.  I saw this horse being made…
They make everything you can imagine from small jewelry to huge chandeliers.  They were beautiful.  The glass masters pass their trade down to their children.  Murano was cool.
We also visited Burano, another island much farther from Venice, 45 min by water bus. It has lovely parks and a beach area and colorful houses painted in bright colors like blue and pink.  More spacious but still has canals and bridges, less touristy with no gondola's.  We ate dinner and had a gelato here!  In fact, we had a gelato every day!  Burano actually has some grass, unlike Venice which doesn't have any. And a couple of trees. 
Overall Venice is great and I enjoyed my time here.
I forgot to write that I TURNED 12 YEARS OLD while in Venice, Italy.  I celebrated with a pizza and a gelato.  It was a memorable birthday!  Walking around here was cool and I liked seeing the glass being formed.  I learned a lot about the history of this place. I hope I can come here again someday. Mom and Dad liked it too, but with all the walking on hard stones, their feet hurt every day.  They are very old.  
 if you have any questions you can email me at rileymeckley@yahoo.com