Grand Canyon National Park, Arizona, USA   Hiking the Grand Canyon was always a dream of ours. By going in the beginning of November we avoided all the crowds and the hike down was spectacular. Went 3 miles.  A visit to the National Park visitors center is a must. Good info and the geology museum is nice too. Driving out of the Park we saw a herd of wild ELK on both days grazing in the forest.
———————————————————————————————————————–
Las Vegas, Nevada, USA.  Had a nice time with both of our mom's here, the kids loved seeing their Grandmothers.
I enjoyed playing roulette with Janet and spending time with my mom. Kids liked walking around  Las Vegas , Freemont Street ,and especially when we all went to see an ELVIS show together. Tom and I saw "Rock of Ages" also while Grandmothers took the kids to ice cream and the fountain show at the Bellagio.
————————————————————————————————————————-
We all visited the Hoover Dam, in Nevada.
Took the Dam tour and learned a lot.  What a feat this was to build when they did it.
—————————————————————————————————————-
Photo of our luggage before leaving the USA.  One bag and one backpack each.   Tom decided on the large backpack in stead of the rolling suitcase.  The only thing missing in photo is the duffle bag with soccer ball and small games in it. Packing Light is the way to go. We plan to give away items as we don't need them anymore , especially when going from warm climates to cold.
————————————————————————————————————–
Tahiti, French Polynesia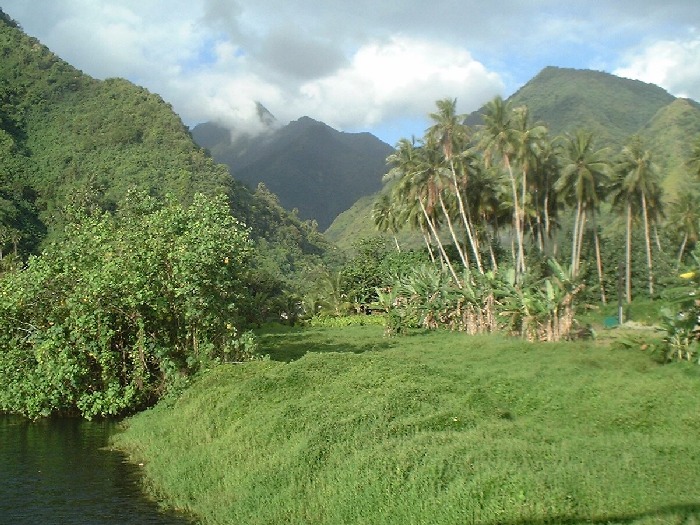 Arriving here after an overnight flight was hard.  Once we got our car, settled in to a unique place on the island we were OK.  The black sand beaches and huge waves were great to watch all the surfers.  The kids loved playing in the surf and snorkeling off our dock at the hotel.   This island is not the picturesque place you think of when referring to "Tahiti."  The sand on the beach is about 4 feet wide all around the island except for some local beaches that are a bit larger.  We drove around the island for 4 days and enjoyed seeing the vegetation, farms, schools, and everyday life of the Tahitians. We avoided the fancy hotels and liked interacting with the local Tahitians.   We were surprised to see graffiti almost everywhere.  Prices are double what you find in the US, even in the grocery stores…very expensive. There is one road that circles the island so you can't get lost. Local houses are all one story and either on the beach side of the only road or on the other side.  The entire island is mountains and not much room for building. Papeete, the capital, is very crowded and where most businesses are located.
——————————————————————————————————————-
Moorea, French Polynesia: This is Sawyer standing by our bungalow on the beach.  We stayed here 5 days.  we had a kitchen in our bungalow and cooked meals and ate on the porch or beach.  Walked the beach, swam, snorkeled to the small "motu" island directly in front of the bungalow each day. Kids did their school work on the beach chairs.
This was by far the coolest place I ever stayed. Directly on the beach, kayaking and snorkeling and enjoying the view from the porch.  The water is brilliantly blue and some great places to snorkel if you ask where to go.  Very laid back and very safe island.  So green.  Much nicer than the island of Tahiti.  We all loved it here.
————————————————————————————————————–
Bora Bora, French Polynesia :
 This is the view of Bora Bora as you fly into the island.

What can I say, if there is a more beautiful island in the world let me know, because this is it.  I highly recommend taking  a boat excursion / island tour to see the entire island from the water view.  So many nice places. Most are fancy hotels with their world renowned " Over the Water Bungalow's." I must say they are fantastic to see and also to snorkel under them, which we did when we snuck into the Inter Continental  Hotel.  The reef here is teeming with colorful fish and coral. Sharks, rays, eels, turtles, clams, and I even saw Seahorses.  Seriously , a Sea horse, so tiny but present on the coral for all to see.  The local people are great, especially because the island is small and they completely rely on tourists for their livelihood.  It is expensive to eat here, a simple meal is about $35 for a very small portion.  A drink is $7  for non alcohol drink.  We ate in our bungalow or on the beach most days picking up food and produce from local grocery.  Once I got past "Island Living," which included bugs, mosquitoes, and lizards on my wall for the past 2 weeks and 3 islands I can appreciate French Polynesia for what it is.  It was nice to see the differences in all 3 islands making them each unique.   
We loved Bora Bora.
My kids loved walking around the decks between the over water bungalows.  Even though we weren't staying in one of these, we enjoyed hanging here without any trouble at all.  We were in Bora Bora off season, November. Not crowded at all, had no problem getting around or "visiting" the fancier hotels.
I love this photo of the kids looking at the fish.
——————————————————————————————————————
NEW ZEALAND
Tom and I have been to NZ before and we loved it then and even more now . We always said if we leave the USA we will come here (lets see who gets elected in 2016) Yes, we are political junkies who follow world and domestic politics.
The kids enjoyed driving around the North Island. So many places to see. No traffic, no noise, and prices are very reasonable for everything.  The exchange rate is great.  We enjoyed Auckland also, our first time in this city.  South of that, the rolling hills are spectacular, it is summer here so weather is pleasant.  It doesn't vary more than 20 anytime throughout the year in this region anyway.   Did some educational stops for the kids and of course got our fill of sheep and cows.  Riley's blog included mostly everything.  Spoke to a lot of locals as they were all interested in asking us something about the USA. Waitomo caves, New Zealand
North Island.Who knew NZ had Redwood Trees???? 
They were planted here in 1901 and have done very well.  Although not as large as the Giant Redwoods in California they are still quite spectacular.   Our journey through the North Island was filled with sights and cities and countryside excursions.   It was interesting to read the local and national papers and see what New Zealanders care about. We got to watch a High School Rugby game which was neat and "Cricket" was on TV most nights.  Driving on the left was no problem. Tom and I have been to the South Island so this trip to the North was completely different from what I imagined.
———————————————————————————————————————
SYDNEY, AUSTRALIA
Vibrant, cosmopolitan, and energetic. This small harbor city has it all, yet , I never felt like I was crowded.  Just enough high rise buildings and more than enough open spaces make walking or biking the city easy.  A pass gets you on all modes of transportation (bus, train or ferry) for the day.  On Sundays a family can buy a pass for $2.50 each and ride all day (as we did).  Just like any world city, certain parts cater to different types of people…business, families, couples, seniors and gays.
I was especially impressed with the Royal Gardens (kind of like Central park but with good weather all year the plant and flower and animal diversity is amazing).  The Harbor is huge, it goes on forever even beyond the picturesque Opera house and Harbor bridge.  It keeps going inland and the boat traffic is constant. A great place to go to University for young people. Kids enjoyed walking around and meeting some locals. We took advice from friends we met online and ate at some local establishments.  Our rental apartment was equipped with kitchen and laundry so we felt right at home.  We happen to be located next to the Naval yard and they christened a new Naval ship while we were there, it was big news on the TV and we were literally staying right next to the dock.  The ship was huge and plenty of service men and women were around that week. We tried to get a tour of the ship but learned it was only for families of the Naval crew.
—————————————————————————————————-
GREAT BARRIER REEF: Australia
One of the wonders of the Natural world. The Great Barrier Reef is incredible.  Tom and I were here in 2000 and doing this again with the kids was even better. Learning about the coral formations and the fish of the reef is essential to enjoying your visit.  We did a one day cruise to the inner reef. Then did an overnight sailing live aboard vessel for 2 nights to the outer reefs..  They both have their pro's and con's . It was exciting to see how well the kids did in the ocean. They would jump right in and look around for over an hour each time we stopped, identifying the coral and the fish.  Tom and I got to dive also. Which we haven't done in 12 years so this was nice.
The giant clams were incredible. So much color.
It was like a Marine Biology crash course learning about how the reef formed and how it continues to grow.
We enjoyed going to Cairns Australia (where the boats leave to get to the reef) and spending time in this town.  We saw bats too>
**********************************************************
The Outback, Australia
Alice Springs, Uluru, Kings Canyon and The Olgas.  Hot, Hot, and Hot, with tons of flies just to add to the excitement of the heat.  After all, it is summer in the desert.  No crowds though, great scenery and had all the hikes to ourselves. Enjoyed showing the kids this part of the country and having them learn about the Aboriginal Culture. Met some great folks out here and got to see learn about  the outback animals. 
Sawyer and I liked investigating the HUGE ant hills found all over.
The Fly Net became our best friend. Without this we could not have stayed outside longer than 2 minutes.  Seriously, it was a lifesaver.
The Kings Canyon Rim Walk was tough, that's me lagging behind my family. We had a great day doing this hike.
Hiking the Olgas was another great day. The huge rock formations are surreal, with caves and erosion so evident where ever you look.
Uluru, otherwise known as Ayers Rock! The week was a good one, spotting wild camels, horses, dingo's and taking a camel ride through the desert.  One of my favorites was on a whim we decided to attend an Astronomer lecture on the Southern Hemisphere,  then we walked out into the desert and they had telescopes set up for us.   We loved it.  Got to see and hear about the constellations and look at stars, the moon and even Mercury through their very powerful telescope all while in the middle of the desert.
Celebrated Tom's 50th Birthday this week, and Christmas. Wishing everyone a Happy New Year. Thanks to all  who correspond with us and are keeping up with Riley's blog. 
We're heading to Indonesia for a week then on to Cambodia where I will be teaching English at a very rural school. More on that later…
**************************************************************
Bali, Indonesia
Indonesia  is an Islamic Country, with the exception of Bali , which is Hindu.  Indonesia has the largest Muslim population of any country.  Truthfully, Indonesia in general is not welcoming to 'westerners" especially Americans, which is why we chose Bali (being Hindu) as our next stop to check it out.  I was not impressed. We stayed in Kuta, and yes, that is a crowded area but the filth, the garbage, the crowded conditions and the constant harassing of foreigners could get on your nerves very quickly. I am well aware of "developing countries" and their way of life but,  Kuta, Bali was a dump, in my opinion. Mostly  backpacker Aussies and Kiwi's (Australians and New Zealanders) come here for a quick holiday because of the proximity to their countries and easy flights.  Not to mention how cheap everything is compared to the dollar.  Seriously, $2 shirts, $3 sandles, $3 dinner meals, $5 one hour massages, $2 haircuts, $5 surfboard rentals, etc. But, of course , you have to haggle for everything. Everything…and purchasing even a bunch of bananas on the street involves several minutes of back and forth exchanges of how much you'll pay.  It's exhausting.
Look at the Beach( which I heard was so special)
There was so much garbage on the shore, everyday.  the water had huge logs and branches and trees floating around in it, making it very dangerous to swim. However, I always like to find something good about a country.  We hired a car and driver (you wouldn't dare drive yourself, nothing is labeled and the roads are not well maintained) for a day and drove around the island in search of something different. We found some cool things but still, the roads were so congested, the shops on top of each other and no room to walk on any sidewalk with motorbikes driving up and down the sidewalks at all times. It takes forever to get anywhere. These photos are my favorite parts of our day trip around the island.
 Temple visiting was nice.
Religious custom only permits men and women into the temples with covered knees and shoulders. What you don't see here is the 100 people rushing up to you at every second pleading with you to "buy this or that" from them.  It is impossible to enjoy your surroundings, even completely ignoring the hawkers.  It reminded me of Vietnam when Tom and I went there 12 years ago.
This is how small and narrow every single street in Kuta , Bali is.  Shared with shops, pedestrians, and motorbikes.  That is Sawyer walking in the blue shirt.
In the outer part of Bali is the Rice terrace area.
The famous Rice Terraces were a delight. Very cool. Learned how the irrigation system feeds all the paddies.  These were interesting to walk through. They are found right off side of the road in certain parts of Central Bali. Looking at them you would think that the countryside is so lush and serine.  WRONG.  As soon as you get back on the road it is a mess. 
We visited a temple in the forest called "Monkey Forest temple" because hundreds of monkeys roam about it, getting food from the people who visit. They came right up to us, even climbing on the kids.
Have you heard of Luwak Coffee? The most expensive coffee in the world, made in Bali. Learned all about the arduous process involved (Riley detailed it in her blog post) and the kids liked this Coffee plantation.  Got to sample Tea, Coffee, Hot chocolate.  Saw the Cocoa beans on the trees.
THE Rambutan. My favorite fruit. I introduced it to the kids and they like it too.  Extremely good for you and grown only in South East Asian countries. You will never find it in the States. We ate dragon fruit, rambutan's , bananas, pinapples, and passion fruit from street stalls each day.  Delicious!  Our trip to Indonesia was certainly enlightening.  I will never return to Indonesia but, despite what I witnessed (most I can not write about) and learned, I am glad we got to visit Bali after all.  Next stop ….Cambodia.
**************************************************************
CAMBODIA
We covered a lot of ground here. I got to meet the kids at CPOC center where I was volunteering to teach English class 3x day.  To learn about this Center please visit  www.cpocfoundation.com
It is AMAZING what is going on here.  Even after leaving Cambodia we think of these kids and the volunteers every day.
My kids got to experience what it is like going to school in a local Cambodian Village School, they got to see how people live in these remote villages and we certainly took "fresh water and showers" for granted.
First Phenom Phen , the capitol was full of educational places for the kids to learn about Cambodia and the Cambodian History. Then after a few days in PP, we took an hour ride past rice fields, farms, desolate land and then arrived in the remote village that has the CPOC center.
Riley in class.
Sawyer would often help out with the Kindergarten class in the morning…where it was already 98 degrees.  In the afternoon the older kids would come for class.  Sometimes a "Student teacher" which was a local Cambodian student would come to listen and translate for me.
. Leaving the CPOC center was hard but we had a journey to continue with. No one could visit Cambodia without going to Siem reap and seeing the Angkor Wat temples.  Seriously, the temples are incredible.  Words and photo's don't do them justice.  There is so much history to this area as well. Angkor Wat, a must see in your lifetime. Give in at
least 3 days.
look closely at Tom's head on the left. Funny.
We visited a landmine museum which was very interesting, hard to imagine that even today kids are still being mamed by landmines dropped over 45 years ago, believe it or not it was not the US but Cambodia (the Khemer Rouge) itself that dropped and planted the most. For those of you who know the history of South East Asia during the 70's you will know about the Cambodian Genocide.
The kids learned a great deal being here. For such a small country they have so much history, mostly unpleasant but from what I can see (this is my second time here) capitalism is flourishing, people and businesses are working hard to make a living. It may seem incredibly cheap to foreigners to visit here but the people are making a living.
——————————————————————————————-
Thailand:  The Kingdom of Thailand.
First off, everyone loves the King, not only is his photo EVERYWHERE (cars, houses, offices, billboards, signs) but jackets, and shirts bearing "long live the king" are popular items!  Thailand is a land of extremes.  Depending on where you go in this country it will be a different experience.  This is my third time to the Kingdom.  We purposely skipped the "South" which have the touristy beach areas and wild nightlife that the backpacker generation seem to gravitate to.  Instead  we spent some time in the capitol, Bangkok and then headed up north to Chiang Mai, and still further north to some remote Hill Tribe Villages.  Coming from Cambodia, Bangkok was like visiting NYC.  Complete with traffic, Noise, population, overcrowding and general hustle and bustle.  I am not a fan of Bangkok, nor could I imagine living in this city.  The one think we all enjoyed though was the street food. Ate it every day, lunch and dinner.  Incredible cheap and delicious. A plate of Phad Thai was about $2 , fresh fruit, juices, meat, rice and lots of sweets were ready for us anywhere you go.  We love the street carts. So did the kids.  Visited the "sights," major temples and took ride on the River. Local transportation everywhere.  Flew to Chiang Mai for an even better introduction for the kids into Thai living.  The markets and temples are more spectacular up North. The old city is walkable.  Rented and apartment for a week here.  Took time for a few days in remote Karen Hill Tribe Village known for their long neck women who wear the brass coils around the neck.  Kids played and we enjoyed the time spent here, although very, very basic. Our thatched roof hut was equipped with Mattress and mosquito net. that's it.  Shared shower with the entire village .
Bangkok Buddhist temple.
Kids attended a Thai School in Chiang Mai.  It was nice how all the school kids would run up to us anywhere we were in the city to practice their English on us. They would have us write in their notebooks, say sentences, take tons of photos of the kids too .  Everywhere the kids went they were looked at, and touched on the shoulder, and photos of them were popular , especially with the older generation.  There must be 100 photos of Riley and Sawyer floating around Thailand. Interesting….or scary…either way it couldn't be helped.
Our accommodations at the Karen Hill Tribe Village. This was extremely nice compared to the houses that most of the Tribe lived in. We had a concrete floor, they have bamboo. We had electricity, most did not.  It amazed Riley and Sawyer that the Children (mostly) do not go to school . We learned about how they are originally from Burma (Myanmar) and are living in Thailand as illegals. Interesting history with the Hill Tribes. Our experiences in Thailand were varied depending on where we were and what we wanted to do. Thailand is a treasure of opportunity compared to Cambodia.  In fact, people try to immigrate to Thailand from Cambodia, Vietnam and Myanmar. Trust me, the Thai government is not letting as many people do that as they did 10 years ago.  It is very difficult to find work if you are NOT Thai.  It was so incredibly hot here. We have been in the heat for several months now through our travels, so much so that we changed our original plans to visit India and instead…..headed to Europe.
________________________________________________________
France:
One of my favorite places to visit.  Paris was above and beyond what we thought so we added extra days to our travels.  We rented a great apartment in a perfect location. Ate here breakfast and dinner most days.  The grocery was across the street and anything we could need was on our street.   Walked everywhere no problems. Even the Metro when we had to use it was decent.  So much history and coming from South East Asia the cold was a welcomed blessing. Did all the touristy things, saw all the sights.  The Arc de Triomph, The Louvre (I cant believe how much we LOVED this place), Notre Dame Cathedral, took river Siene ride, Museums, bakeries, food, etc. Never a crowd, we strolled into the sights because it is WINTER.   If you visit Europe in summer you are CRAZY, seriously, go in winter!    Every day was another Paris experience.  Our meal out was always lunch, more variety, cheaper and nice to eat in a café while watching the world go by.  The cafe's had heat lamps outside so this was nice.
After Paris, visited Normandy up north to teach the kids about D Day and WW II. I am sure everyone reading this knows about the history of this region. The American Museum and Cemetary are very moving.  Also visited Mount Saint Michel.  A great midevil Castle on an island used for many purposes .
On the porch of our Paris apartment.